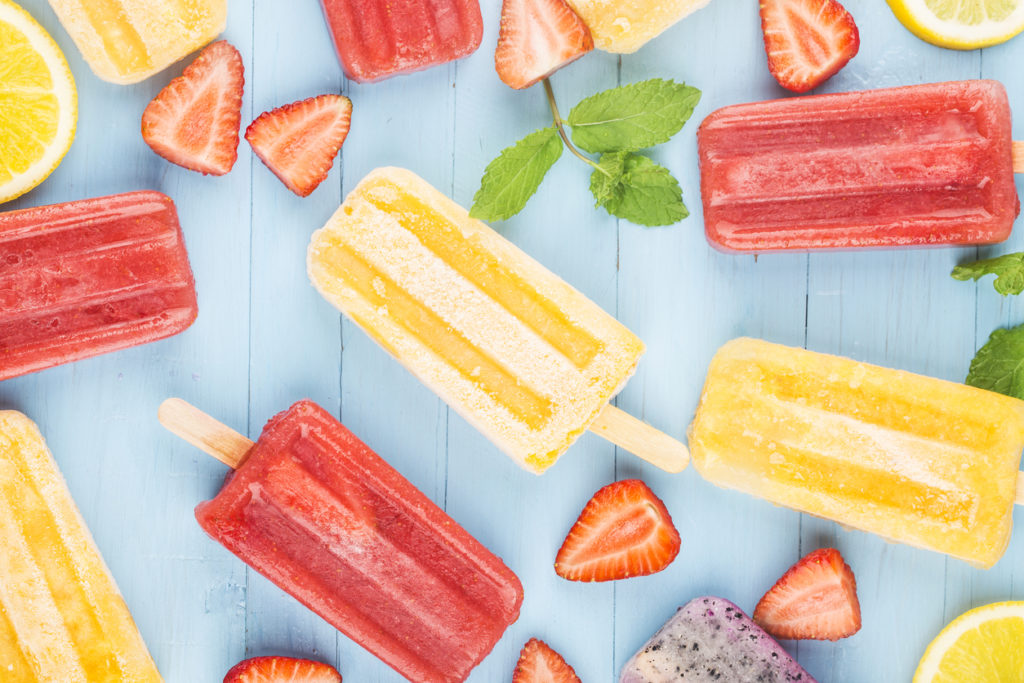 Trying to beat the heat this summer? A cool treat is a great way to chill out on hot days, so pick up some popsicle molds and make your own frozen desserts!
Fruit Pop
You can't go wrong with a classic, and these sweet fruit pops are a tried-and-true part of summers across the country. A little bit of yogurt gives each pop just enough tartness to balance the sugar and syrup, but the star of this production is the fruit. For maximum natural sweetness, go with whatever fruit is ripe and in season, like pineapple, watermelon, or cantaloupe. For this pop preparation, you'll need three cups of your preferred ripe fruit, cut into chunks, a half cup of sugar (superfine works best here), three tablespoons of light corn syrup, a tablespoon of lemon juice, and two cups of vanilla yogurt. Use a blender to mix the fruit with your sugar, syrup, and juice until it's a smooth puree, check the sweetness to taste, then pour the blend into your pop molds. They'll need to firm up in the freezer for about four hours.
Kiwi Watermelon Pop
Watermelon and kiwi go great together, and these tasty treats combine their flavors while recreating a vibrant red and green watermelon color scheme. To make a batch of eight pops, you'll need to peel four kiwis, plus three cups of seedless watermelon. You might also want to add just a little water to the kiwi when you blend it, just to add volume. Ripe watermelon should be so sweet that you don't need to add any sugar to make this pop delicious, and the melon flavor will come paired with the bright tartness of the kiwis for a delightful contrast with every lick. You'll need to blend the kiwi and watermelon separately, pouring the first puree into the mold part-way, then giving it time to freeze. Once the first fruit is frozen, puree and pour in the second, then return it to the freezer until it's solid as well.
Frozen Hot Chocolate Pop
You don't have to wait all the way until wintertime to enjoy a relaxing hot chocolate, and it helps when that rich chocolaty flavor can come chilled as well. If you'd like to make your own hot chocolate popsicles, you'll need four cups of milk, six tablespoons of extra fine sugar, two tablespoons of chocolate chips. The author of this recipe recommends semi-sweet for the right balance of rich coco flavor and sweetness. You can also add marshmallows if you choose. In a saucepan, dissolve the sugar and chocolate into the milk, then take the mix off the heat and let it cool completely. Then, pour the chocolate into your pop molds and freeze them for at least six hours. If you want to add marshmallows, consider adding them in part-way through the freezing process to keep them from floating to the top.
You might also like: Grab A Slice At Donnie's Homespun Pizza
Bob Brady Honda
Our low prices are sure to help you keep your cool when it's time to buy your next car, so come explore our new Honda selection at 3955 E Boyd Road, Decatur, Illinois 62521. We look forward to helping you save on your next car, SUV, truck, or minivan soon.