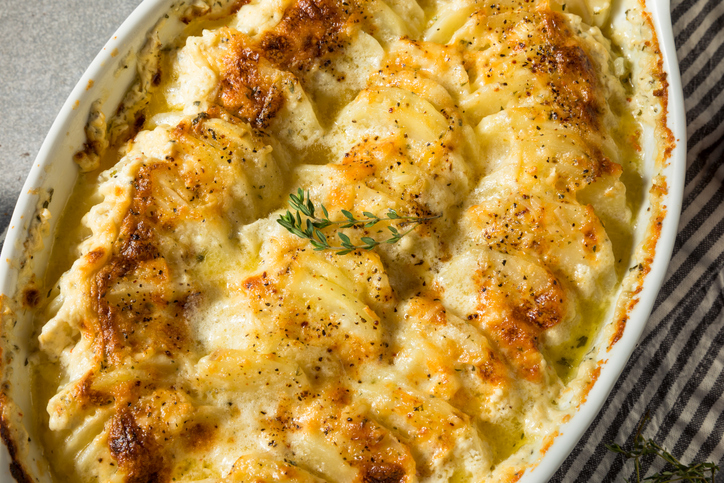 Every year, the number of holiday recipes that people publish grows. On the one hand, that's great because it gives you more options. On the other hand, it means you're forgetting about some of the more traditional food choices. This year, consider revisiting side dishes that you once considered your favorites.
Cranberry Fluff
For many people, cranberry fluff was something that their grandmother made every year for holiday meals. It's a shame that few people make it anymore. After all, it's fruity, light, and delicious. If you put this on your table, there's a good chance it'll go quickly. Not only will adults love it but also kids.
Another great thing about Cranberry Fluff is that it contains few ingredients. For that reason, it's easy and fast to make. Also, this is an affordable dish that tastes like a million dollars. All you need is cream cheese, cool whip, pineapple, and maraschino cherries.
Scalloped Potatoes
This doesn't mean boxed scalloped potatoes, but the kind your mother or grandmother made from scratch. This will complement the meal, regardless of what you plan to serve as the main course. After all, what's not to love about potatoes with a rich, creamy flavor? Another thing, this side dish is ideal for a small or large group of guests.
Eating homemade scalloped potatoes always makes you feel at home, regardless of where you have your holiday meal. Although you can stick to a more traditional recipe, there are ways to enhance this dish. As an example, scalloped potatoes aren't typically made with cheese. However, this is a great addition that'll make the dish even creamier.
Cornbread and Oyster Dressing
Especially for Thanksgiving, no feast is complete without stuffing. Today, a lot of people make either cornbread or oyster dressing but not the two ingredients combined. This side dish has an amazing flavor that'll leave everyone wanting more. So, be sure to make plenty when you host a holiday meal.
Some people snub their nose at cornbread and oyster stuffing because they're worried it'll taste like fish. That's not the case at all. Rather, the oysters give this side dish a unique flavor that's undeniably good.
Au Gratin Potatoes
Similarly, not many people make au gratin potatoes for the holidays. In this case, you can enhance the flavor of an already amazing side dish. First, don't use just any kind of cheese. Rather, go with Gruyere. That's what makes the dish so cheesy. Also, add leeks. You'll never make this any other way.
Here's another way to take this side dish up a notch. Instead of using the more traditional cheeses like cheddar, Swiss, and mozzarella, choose something different. Great alternatives include Havarti, Gruyere, Gouda, and Fontina. For an extra kick, go with smoked cheese.
You might also like: Is Your Car Ready For The Colder Weather?
Wilted Salad
Although no one knows why people stopped making a wilted salad for the holidays, it's time to bring this side dish back. It doesn't matter if you pour hot dressing or bacon grease over the lettuce; your family and friends will love it.
There are ways to enhance the flavor of a wilted salad. For instance, you could give the dish a little texture by adding roasted nuts or seeds. Other options include putting some whole grains in the salad and even experimenting with different spices. No matter how you serve it, wilted salad is worth making for your guests.