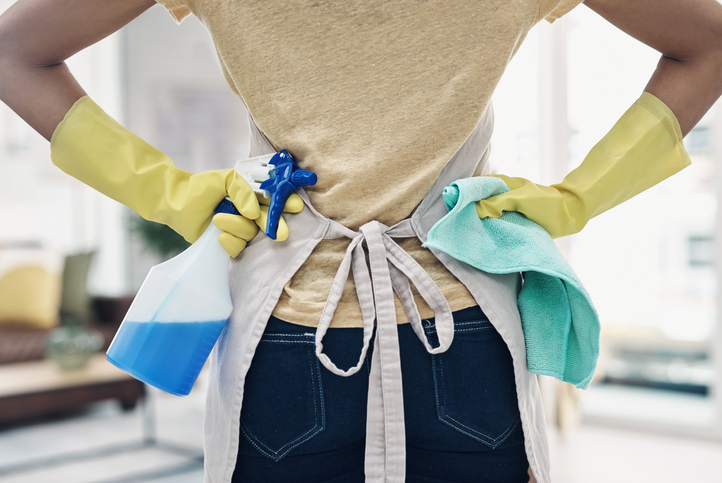 Some people get excited about spring cleaning, while others dread it. But taking time to do a seasonal clean has many benefits. For example, you may discover minor issues or repairs before they become big problems. Or you can clear out items you no longer need. And tackling spring cleaning also helps you prepare your house for the active summer months ahead. Try these 10 spring cleaning tips to make the job easy and effective.
Know What Motivates You
Your cleaning style doesn't have to be the same as anyone else's. What matters is that you find a way. Find a method that best fits your cleaning personality, and play to your strengths. For instance, if you do best by working on one chore after another, clear a day in your schedule.
Short But Productive
You might think it's a good idea to spend hours cleaning. But for many, this isn't practical to do. In addition, the thought of cleaning for hours can cause you to put things off even longer. The beginning is often the hardest part. You can make it easier to start by setting a timer. In fact, cleaning in increments as short as 10 minutes can motivate you to get more done than you think.
Gym Bag Blues
During spring, many people get more active. In addition, the weather is warming up. Combine the two, and you might have gym or active wear starting to stink up the place. Try a vinegar soak if you rinse and wash your gym clothes often, but they still smell stinky. Use one part of vinegar to four parts of cold water to soak the clothes.
Other Stinky Culprits
Despite your best efforts, the trashcan can be a source of bad smells. However, you can try a few things to reduce the stink. For example, you could use a smaller container and empty it more often. Another tip is to line the bottom of the trash can with new or used dryer sheets. This layer can help catch drips and spills and reduce the odors.
Baking Soda Scrub
Baking soda has many uses; you can use it to clean coffee mugs. Add one part of baking soda to two parts of water into the stained mug. Then save your elbow grease for other things and let it soak overnight. The next day, it should be easier to scrub or wipe the mugs clean.
Blinds Ambition
If clearing the dust off your blinds for every window is daunting, get a tool. Some tools allow you to clean multiple blind slats at once. As a result, the process is much faster, and you'll finish in a snap.
Stuck in the Oven
Baked-on grime in the oven doesn't have to be a nightmare to clean. And you don't need to resort to dangerous chemicals. You can scrub off the gunk with a wet scouring pumice stone. These scouring pumice stones can even clean up oven glass. Then wipe it clean with a microfiber cloth.
In the Toilet
Cleaning the smelly toilet can be challenging. If getting up close and personal is too gross for you, try this trick. Use a swivel-head mop to clean the bowl and hard-to-reach crevices.
Shower Power
Keeping the shower tile clean and sparkling is tough. But you can make it second nature by making the tools a regular part of your daily routine. For instance, add a hand squeegee to your shower so you don't forget to wipe everything down. Or, fill a soap wand with dish soap and vinegar and give the tiles or wall a quick scrub.
You might also like: Easter Egg Hunt Ideas
All-Natural Clean
Many cleaners have a strong smell or use harsh chemicals to clean. You can opt for safer cleaners that are also eco-friendly by making your own. Things like distilled vinegar and rubbing alcohol can be versatile cleaning tools. Make sure you check before combining certain things.
Use these tips to tackle your spring cleaning chores like a champ!
Disclaimer: The stock image is being used for illustrative purposes only, and it is not a direct representation of the business, recipe, or activity listed. Any person depicted in the stock image is a model.