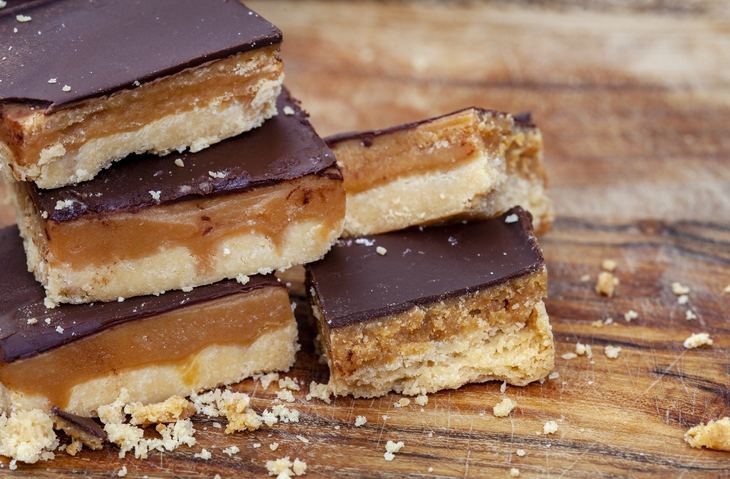 Shortbread is tasty on its own, but sometimes you want to take things up a notch. And shortbread toffee bars are the way to go. Crispy, crumbly shortbread becomes the base of this cookie. Then a gooey layer of toffee adds richness. Finally, a top layer of chocolate ties everything together. You'll need more than one of these fantastic cookies. Try this shortbread toffee bar recipe for your next dessert.
Ingredients You'll Need
This cookie has three layers, but it's still a simple cookie to make. For the shortbread layer, you'll need the following:
1 teaspoon of vanilla extract
2 1/4 cups of all-purpose flour
1 cup of granulated sugar
Two sticks or 1 cup of butter, softened
1/2 teaspoon of kosher salt
Then comes the rich toffee caramel flavor. For this layer, you'll need the following:
1/2 cup of heavy cream
Two 11-ounce packages of caramel squares
Finally, chocolate is the perfect topping. For this layer, you'll need the following:
Flaky sea salt for a garnish
2 cups of semisweet chocolate chips
Assembling the Toffee Shortbread Bars
First, preheat your oven to 300 degrees Fahrenheit. Then keep your bars from sticking by covering your 13-inch x 9-inch pan with parchment paper and spraying it with cooking spray. Next, cream the sugar and softened butter. After that, add the vanilla, flour, and salt until you have a crumbly mixture. Now it's time to press the shortbread mixture into your pan and pierce it with a fork all over. Bake it for 30 minutes, then let it cool before adding the second layer.
Once your shortbread cools, it's time to prepare the second layer. Fortunately, it's a simple process. Use a small saucepan and medium-low heat to melt the caramels with the heavy cream for 10 minutes. Make sure you often stir and keep the heat fairly low. Once the shortbread is cool, you can pour your melty caramel over the shortbread.
You might also like: Essential Car Maintenance Checklist
Last But Not Least
After you have poured the caramel, the last layer is the easiest. In fact, you can melt the chocolate in the microwave if you are careful. Use 30-second intervals, and stir after each interval until the chocolate melts. Then pour it over the caramel layer.
Digging into these goodies right away can be tempting, but you'll need to wait a little longer. Stick the pan into the fridge to cool and firm up for 20 minutes. Then top with sea salt flakes, if you prefer, and slice into bars. The flavors are fantastic, and it'll shock you how easy these are to prepare. Of course, if you decide not to share immediately, that's understandable. Also, remember that the caramel can ooze out even if you have cooled the bars. But the sticky fingers will be worth it to make these cookies for your next dessert.