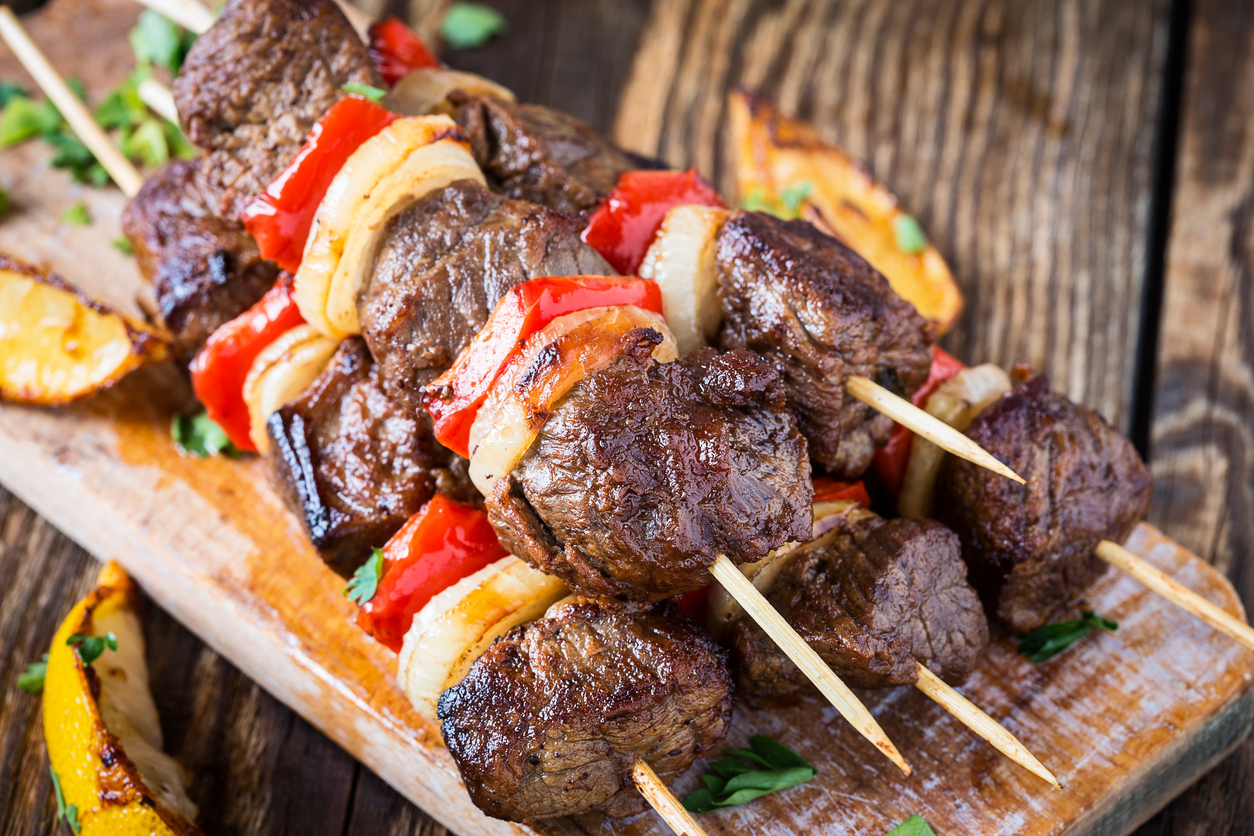 It's summertime, so why not celebrate the warm weather and Memorial Day with a cookout? Kebabs are a super tasty option for grilling. They mix so many different flavors to give your Memorial Day meal a kick. Kebabs are simple to assemble and make, since you can choose what foods you would like to put together. Most kebabs start with the main meat portion which could be chicken, steak, or lamb and add complementary fruits and vegetables to be grilled altogether. So, what are you waiting for? Fire up the grill and check out these yummy kebab recipes.
Steakhouse Kebabs
This steakhouse kebab recipe will have you and your guests mouthwatering. You may even think you are in an actual steakhouse. The marinade pairs flavors of Worcestershire, soy sauce, lemon juice, mustard, and garlic for a lovely, robust flavor. The marinated steak is accompanied by mushrooms and onions on the skewer to bring a true steakhouse flavor. If you're looking for a steakhouse experience, you don't have to look much further than this steakhouse kebab recipe.
Crispy Caramel Chicken Skewers
These kebabs will give you a crunchy exterior with a sweet and savory flavorful interior. The combination of caramelized brown sugar and honey with a coating of almonds and sesame seeds over chicken breast will have your grill smelling like a Michelin star restaurant for your next cookout. Make sure this crispy caramel chicken skewer recipe is on hand.
Grilled Shrimp Kebabs Grilled
Shrimp kebabs are a great way to incorporate seafood into the next grill master meal. The shrimp is marinated in cumin, Italian seasonings, lemon juice, garlic, pepper flakes and fresh herbs. Flossed in between are flavorful vegetables like peppers, onions, and zucchini.
You might also like: Tips For Decorating Your Office
Grilled Veggie Kebabs
If you are looking for a kebab you can serve as a nutritious side or for our vegetarian friends, try these grilled veggie kebabs. These skewers are easy to assemble. All you need to do is slice some bell peppers, red onion, mushrooms, cherry tomatoes, zucchini and yellow squash.
You might also like: Tips For Decorating Your Office
Grilled Fruit Kebabs
Looking to shake things up and try something new at the next cookout? Try this grilled fruit kebabs recipe. A cool fact about grilling fruit is that the heat from the grill caramelizes the natural sugars in the fruit for a yummy side or dessert.
Disclaimer: The stock image is being used for illustrative purposes only, and it is not a direct representation of the business, recipe, or activity listed. Any person depicted in the stock image is a model.